This product has been updated! Please click here to view the updated version:
https://ezfycode.com/shop/brooklyn-theme-slider-pro
---
Maintain the beauty and elegance of your Brooklyn theme while enhancing its functionality with a smooth slider.
Coded by a certified Shopify partner.
Works out of the box on any Brooklyn theme, simple copy-pasting, no headaches.
One image is worth a thousand words, but one live preview's worthiness is beyond evaluation! So check this slider working live clicking here.
Password: 123
What you'll get:
This plugin creates additional options at the customize page of your theme.
Below, whichever options have (customizable) are options that you'll be able to enable, disable and/or customize in some way.
Here are all the main features:
- Swipe featured image
- Featured image arrows (customizable - enable for desktop only, mobile only or both)
- Featured image loop (customizable)
- Lightbox zoom on click (desktop only, customizable)
- Swipe thumbnails
- Thumbnail arrows (customizable - enable for desktop, mobile or both)
- Thumbnails loop (customizable)
- Amount of visible thumbnails: 3, 4, 5, 6 or use the default Brooklyn thumbnails without slider.
You can choose a different number for desktop & mobile devices, for example, show 6 thumbnails on desktop and 3 on mobile.
- Highlighted thumbnail alignment (left, center or right)
- Thumbnail vertical alignment (top or center)
- Adaptive height - slider automatically adapts to images with different heights.
- Update featured image to its equivalent variant whenever changing a variant through the variant swatches
- Update the featured image if a variant is on the URL
- Lazyload to improve performance (customizable)
- Life time free updates
- Life time free bug fixes
- Constantly maintained and improved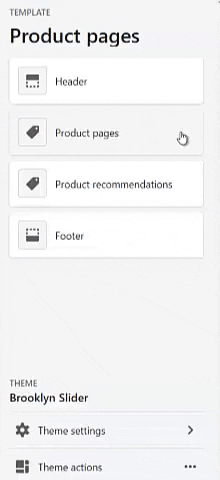 Installation:
Installation takes less than 1 minute!
You just need to copy and paste one single file received upon download.
Detailed instructions can be found here.
Support:
We give 100% support to all of its users to ensure that what you're seeing on the demo page is exactly what you see on your website, same day responses are guaranteed.
If you have any questions, troubles or find bugs just reach out to us:
ezfycode@gmail.com
Important Notes:
- This code works exclusively on the Brooklyn theme.
- If you have custom code in the product page (inside the file product-template.liquid), this code may overwrite them. If you'd like to install the slider and keep your product page customizations (in case there are any), we offer custom integration for an additional fee of $30 USD.
Unsure if it would work on your theme, overwrite customizations, blend with installed apps or any other questions? Feel free to reach out to us:
ezfycode@gmail.com
FAQ:
Q: What is included in the support?
A: We ensure that whatever you see on the demo page is what appears on your own website. In addition, any bugs you find will be promptly investigated and fixed.
Q: Do you offer refunds?
A: Taking into consideration that it's a digital product with a live demo we do not offer refunds. However we do guarantee the slider will work on any Brooklyn theme.
If you have any unanswered questions please feel free to reach out to us before making your purchase, we'll be happy to help.
Thank you!